Balancing Machine Calibration & Certification
Precision Balancing Company, Inc. provides both balancing machine calibration and certification services for our customers' balancing machines.
Upon arrival to a new customer or one of our long time service customers our number one goal is complete customer satisfaction. We begin our service visit with discussion with the machine operators, area leads and supervisor to find out if there are any issues with the equipment or any question that we can help with. We will then perform a thorough inspection of the machine including all mechanical and electrical components, suspension system, pickups and cables and all safety device to insure proper operation.
The machine will then be set up mechanically and electronically using one of our 22 certified test rotors. We will then use N.I.S.T. traceable test weights to take an as found reading of the machines condition.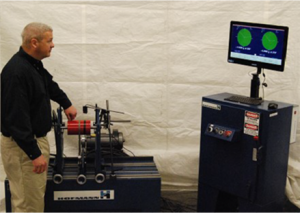 The machine will then be calibrated per manufacturer's specification. Once completed we will test the machines accuracy by plotting larger and smaller test weights than were used during the calibration. This insures accuracy over the entire range of the balancing machine. Once the machine is tested and passes all manufacturers and Precision Balancing Co. specifications a dated calibration sticker is placed on the machine and is valid for 1 year. This sticker clearly displays the N.I.S.T. trace-ability information as well as machine and electronic serial numbers for the machine.
We can also provide additional testing where necessary. ARP, ANSI/NCSLZ540, ISO 9000, QS 9000, ISO 17025, AND ISO 16494. This additional will be verified by and independent laboratory and an independent certification of machines accuracy will be issued to the machine.
Once all testing is completed our service technician will spend time with your machine operator discussing balancing procedures and offering real world solutions to any issues that they have been having. This training is included with every calibration visit to continually help to improve the efficiency and safety of your balancing machine operators.
A complete service report will be provided at the completion of our service visit. This will include the as found condition of the machine, the results of the post calibration testing, a review of any training topics discussed with the operators and any recommended service or repair items that are needed. A quote will be included of any additional service or training is recommended.
We look forward to working with you on your next balancing machine calibration and service project. Please call us today and we can discuss how we can help keep all of your balancing equipment running in peak condition.
We can calibrate the following machines with our balancing machine calibration and certification services.

American Hofmann
Schenck
IRD
Hines
Balance Research
Stewart Warner
Balance Technology
Balance Master
DynaBal
Abro
CEMB

Heins
Raydyne
Raven Engineering
GMR
Reco Unibal
Akashi
ProBal
Bear
Balance Specialties
And many other manufacturers
For more information or to schedule an appointment, please contact us at 317-639-2712 or contact us atservice@precisionbalance.com